NOTA INFORMATIVA IMPORTANTE / IMPORTANT INFORMATION NOTE
Press Release WKF/ Nota de Prensa WKF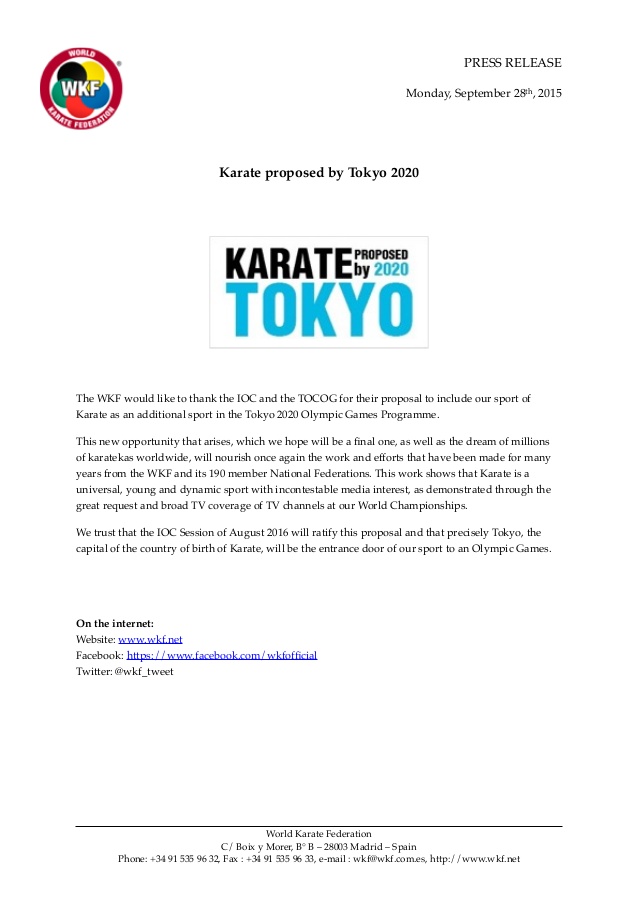 Karate proposed by Tokyo 2020
The WKF would like to thank the IOC and the TOCOG for their proposal to include our sport of Karate as an additional sport in the Tokyo 2020 Olympic Games Programme.
This new opportunity that arises, which we hope will be a final one, as well as the dream of millions of karatekas worldwide, will nourish once again the work and efforts that have been made for many years from the WKF and its 190 member National Federations. This work shows that Karate is a universal, young and dynamic sport with incontestable media interest, as demonstrated through the great request and broad TV coverage of TV channels at our World Championships.
We trust that the IOC Session of August 2016 will ratify this proposal and that precisely Tokyo, the capital of the country of birth of Karate, will be the entrance door of our sport to an Olympic Games.
Karate propuesto por Tokio 2020
La WKF le gustaría dar las gracias al COI y el TOCOG por su propuesta de incluir nuestro deporte del karate como deporte adicional en el Tokio 2020 Juegos Olímpicos Programa.
Esta nueva oportunidad que se presenta, lo que esperamos sea una final, así como el sueño de millones de karatekas de todo el mundo, alimentará una vez más el trabajo y los esfuerzos que se han hecho durante muchos años a partir de la WKF y sus 190 miembros de las Federaciones Nacionales . Este trabajo muestra que el Karate es un deporte universal, joven y dinámica con interés de los medios incontestables, como se ha demostrado a través de la gran demanda y amplia cobertura televisiva de los canales de TV en nuestros campeonatos del mundo.
Confiamos en que la Sesión del COI de agosto 2016 se ratifique esta propuesta y que, precisamente, Tokio, la capital del país de nacimiento del Karate, será la puerta de entrada de nuestro deporte para los Juegos Olímpicos.
Documento en pdf aquí/ Document : karate-proposed-by-tokyo-2020-907.pdf (84816)